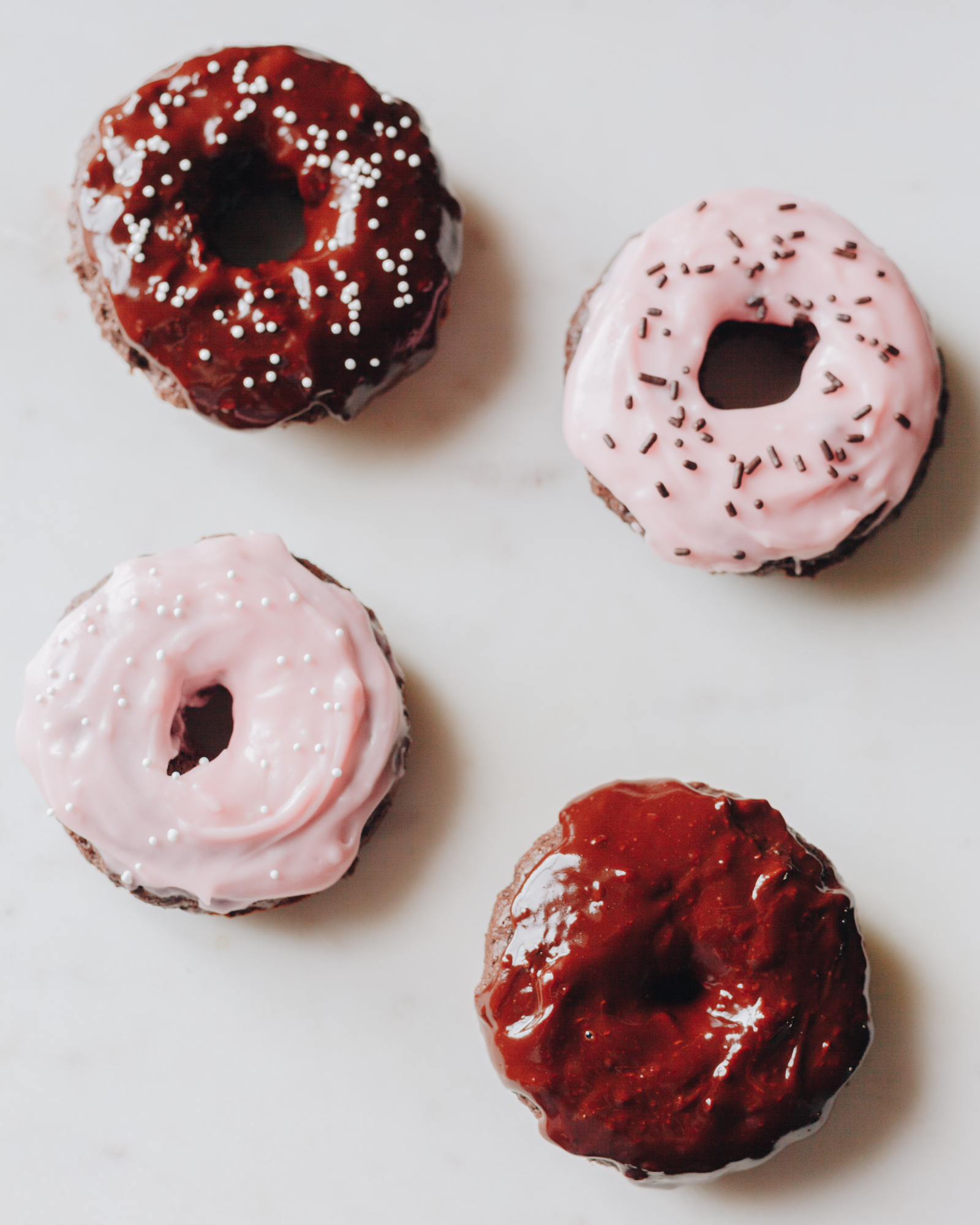 If there's one thing that grabs people's attention on Instagram, it's donuts. I don't know why, but people love to look at donuts. Don't get me wrong, people love to taste donuts too, I'm sure, but people really love to look at donuts.
In my apartment, however, there's not a lot of actual looking that goes on at donuts. It feels like I make them and the next day they've poofed! So… I'm pretty sure I made Kenneth's day when I whipped up this chocolate donut recipe (for my sweetheart!). I named them "sweetheart" chocolate donuts with Valentines Day in mind, because I'm pretty sure these donuts are the way to anyone's heart.
I've got two types of icing on these tasty treats: a simple vanilla frosting and a chocolate glaze. The recipes for both are included below, depending on how what you're in the mood for. This chocolate donut recipe is quite moist and rich, so I recommend trying out the basic vanilla icing first.
Notes:
– I used a Wilton 6-Cavity Donut Pan.
– I used Wholesome Organic Light Brown Sugar and found the donuts to be more moist when using this.
– When adding the vinegar to the wet ingredients in the recipe, it is normal to see the milk curdle a little bit.
– In the pink icing, I used one drop of red food coloring.
---
Sweetheart Chocolate Donuts
A tasty, rich and moist baked chocolate donut recipe.
Ingredients
2/3 cup

Dutch-process cocoa powder

1 3/4 cups

all-purpose flour

1 1/4 cups

light brown sugar

1 tsp

baking powder

1 tsp

baking soda

1/2 tsp

ground cinnamon

1 tsp

salt

2 large

eggs

3/4 cup

whole milk

2 tsp

vanilla extract

2 tsp

white vinegar

8 tbsp

unsalted butter, melted
Instructions
1. Preheat the oven to 350ºF and butter/grease your donut pan.
2. Whisk together the cocoa powder, flour, sugar, baking powder, baking soda and ground cinnamon.
3. In a separate bowl, mix together the eggs, milk, vanilla extract and white vinegar.
4. Allow melted butter to cool before adding to the wet mixture or it will cook the egg.
5. Combine the wet and dry ingredients, mixing by hand until well-combined.
6. Using a spoon, fill the donut pan about 3/4 full for each spot.
7. Bake the donuts for 12 to 15 minutes, or until a toothpick inserted comes out clean.
8. Allow to cool for about 1 minute, then turn pan over onto a cooling rack.
9. Allow donuts to cool fully before adding icing.
Details
Prep time: Cook time: Total time: Yield: 12 donuts
Basic Vanilla Donut Icing
A basic vanilla icing recipe best used for donuts.
Ingr
edients
3 tbsp

unsalted butter, melted

1 1/2 cups

confectioner's sugar, sifted

1/4 tsp

vanilla extract

2 tbsp

whole milk

1 tsp

light corn syrup

1 drop

food coloring (optional)
Instructions
1. Sift the confectioner's sugar.
2. Add butter, vanilla extract, whole milk and corn syrup and mix until smooth.
3. Add food coloring last.
Details
Prep time: Yield: Icing for 6 donuts
Basic Chocolate Glaze
A basic chocolate glaze best used for donuts.
Ingredients
3/4 cup

semi-sweet chocolate chips

3 tbsp

unsalted butter

1 tbsp

water

1/2 tbsp

light corn syrup
Instructions
1. Put all ingredients into a microwave-safe bowl or cup and melt ingredients, stirring every 20 seconds until smooth.
Details
Prep time: Yield: Icing for 6 donuts