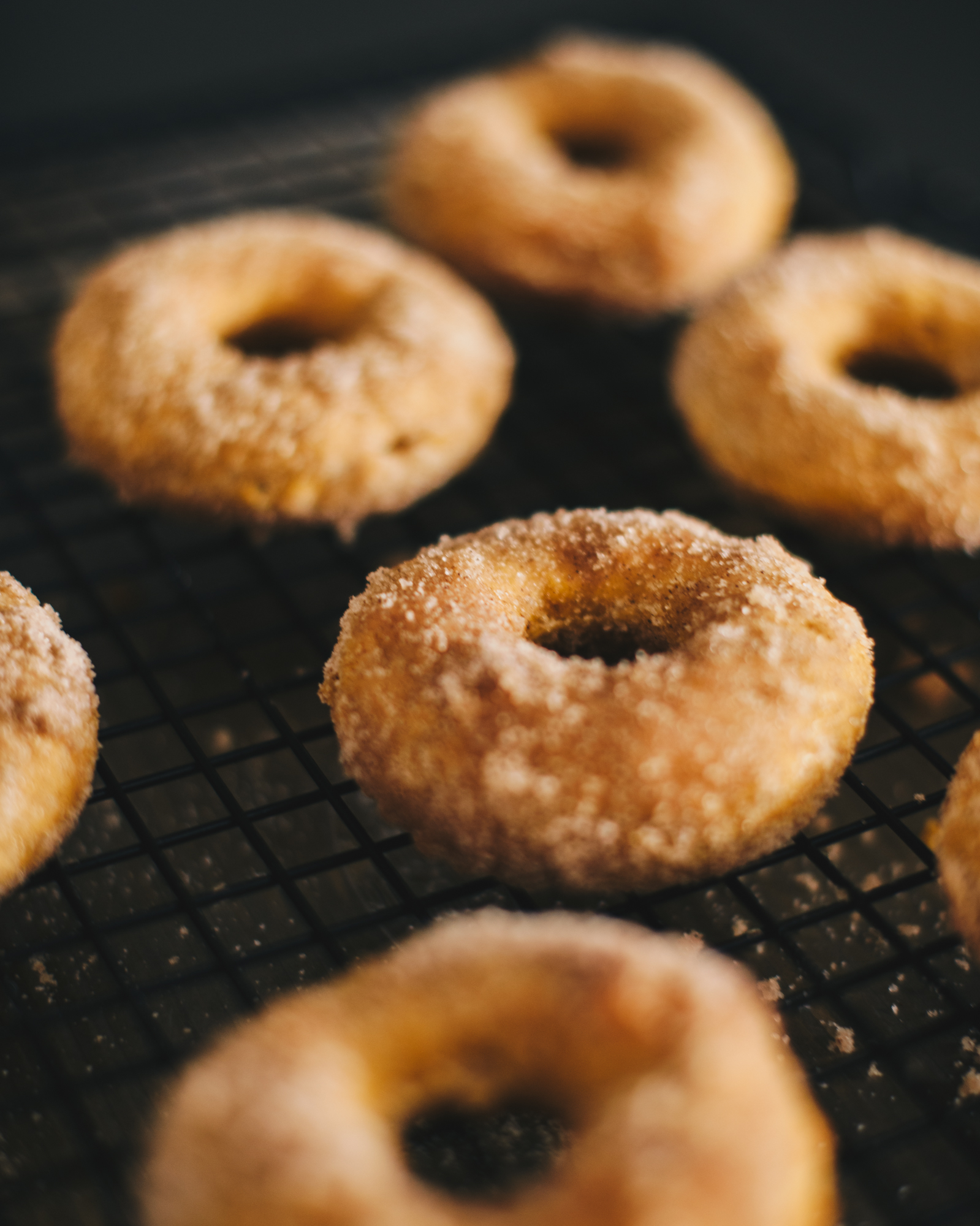 Three words: Pumpkin spice season.
Ladies and gentlemen, break out your Ugg boots. It's pumpkin spice season.
Now that pumpkin spice is in full effect, I thought I'd make a batch of donuts that reflected those fall flavors. I'm not really one for lattes, so I'll take these pumpkin spice donuts instead.
This October has brought a lot of joy into my life, and I'm going to keep the momentum going with some delicious desserts. These pumpkin spice donuts are a quick and fun fall treat that will take you back to pumpkin patches and hayrides.
Bring on the cinnamon sugar
You can glaze these however you want, or you can simply do a coat of cinnamon sugar. The cinnamon sugar coat is my preferred method, so you can focus on the awesome delights of spicy pumpkin flavors.
Pumpkin spice and everything nice
Are you crazy about pumpkin spice this season? Let me know what your favorite fall treat is in the comments.
Pumpkin Spice Donuts Recipe
Pumpkin Spice Donuts
Pumpkin spice donuts are the spice of life.
Ingredients
1 cup

all-purpose flour

1 tsp

baking powder

1/4 tsp

ground cinnamon

1/4 tsp

ground ginger

1/4 tsp

ground nutmeg

Pinch

ground cloves

1/4 tsp

all-purpose salt

1/3 cup

pumpkin puree

1/4 cup

brown sugar

2 tbsp

maple syrup

1 tbsp

granulated sugar

1

large egg

1/4 cup

whole milk

2 tbsp

unsalted butter, melted

Additional 1/4 cup

butter, melted for coating

1/2 cup

granulated sugar

1/2 tsp

ground cinnamon

Instructions

1. Preheat oven to 350ºF.

2. Grease your donut pan and set aside.

3. In a small bowl whisk flour, baking powder, cinnamon, ginger, nutmeg, cloves, salt and set aside.

4. In a medium bowl combine butter, maple syrup and sugars until creamy.

5. Add pumpkin puree, egg, milk and cooled butter until well combined.

6. Add flour mixture to wet mixture, mixing as you add.

7. Transfer batter to donut pan.

8. Bake for 8-10 minutes or until a toothpick comes out clean.

Details

Prep time: Cook time: Total time: Yield: 10 donuts