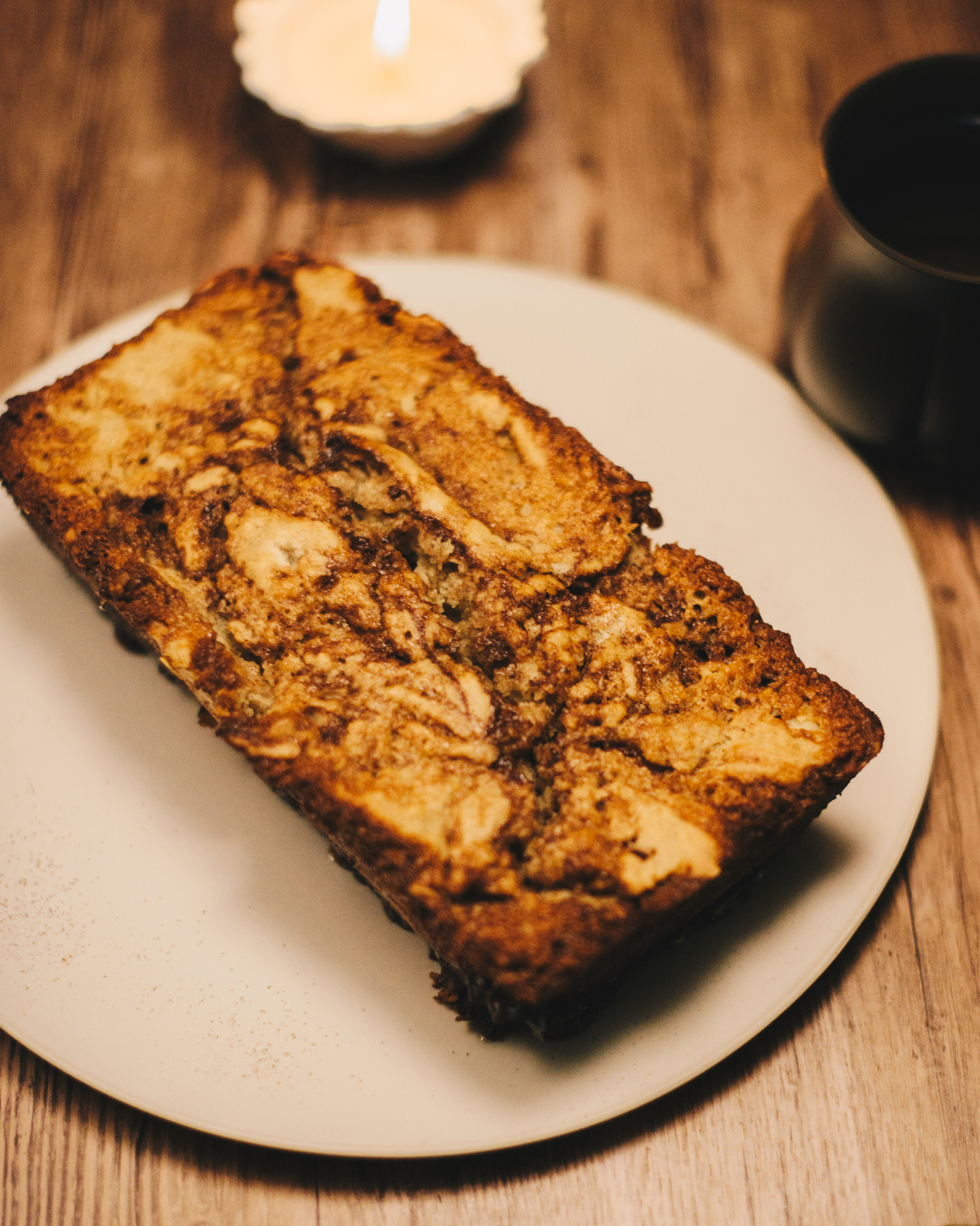 Maple and cinnamon: a match made in heaven
I'm just going to come right out and say it: this maple cinnamon loaf recipe is an absolute game changer. I love substituting sugars in recipes for syrup or honey, and creating this sweet treat was the perfect combination of these tastes.
Getting (b)ready for fall
I'm still convinced that September 1st is the beginning of fall, and am adjusting my baking as such. Give me some Norah Jones, some cloudy days and chilly winds and I'll give you way too many delicious desserts.
Maple cinnamon loaf – have you tried it?
Let me know if you've tried this recipe, or if you plan to! I'd love to hear what you think.
Recipe notes
Recipe for Maple Cinnamon Loaf
Maple Cinnamon Loaf
A maple cinnamon loaf recipe perfect for a hearty autumn treat.
Ingredients
1/3 cup

granulated sugar

1/3 cup

honey

1/3 cup

maple syrup

4 tsp

ground cinnamon

2 cups

all-purpose flour

1 tbsp

baking powder

3/4 tsp

kosher salt

1

large egg

1 cup

whole milk

1 tsp

vanilla extract

1/3 cup

vegetable oil

1 tbsp

unsalted butter

Instructions

1. Preheat oven to 350ºF.

2. Grease your loaf pan and set aside.

3. In a small bowl combine sugar, honey and maple syrup with 3 tsp cinnamon and set aside.

4. In a medium bowl whisk together flour, 1 tsp cinnamon, baking powder and salt.

5. In a separate bowl whisk milk, egg, vegetable oil and vanilla extract.

6. Combine flour mixture and egg mixtures until they form a smooth batter.

7. Create layers of batter and sugars in the loaf pan, going back and forth between them until mixtures are entirely in the pan.

8. Bake for 45 minutes or until a toothpick comes out clean.

9. Let cool for 10 minutes before overturning onto plate.

Details

Prep time: Cook time: Total time: Yield: 1 loaf pan