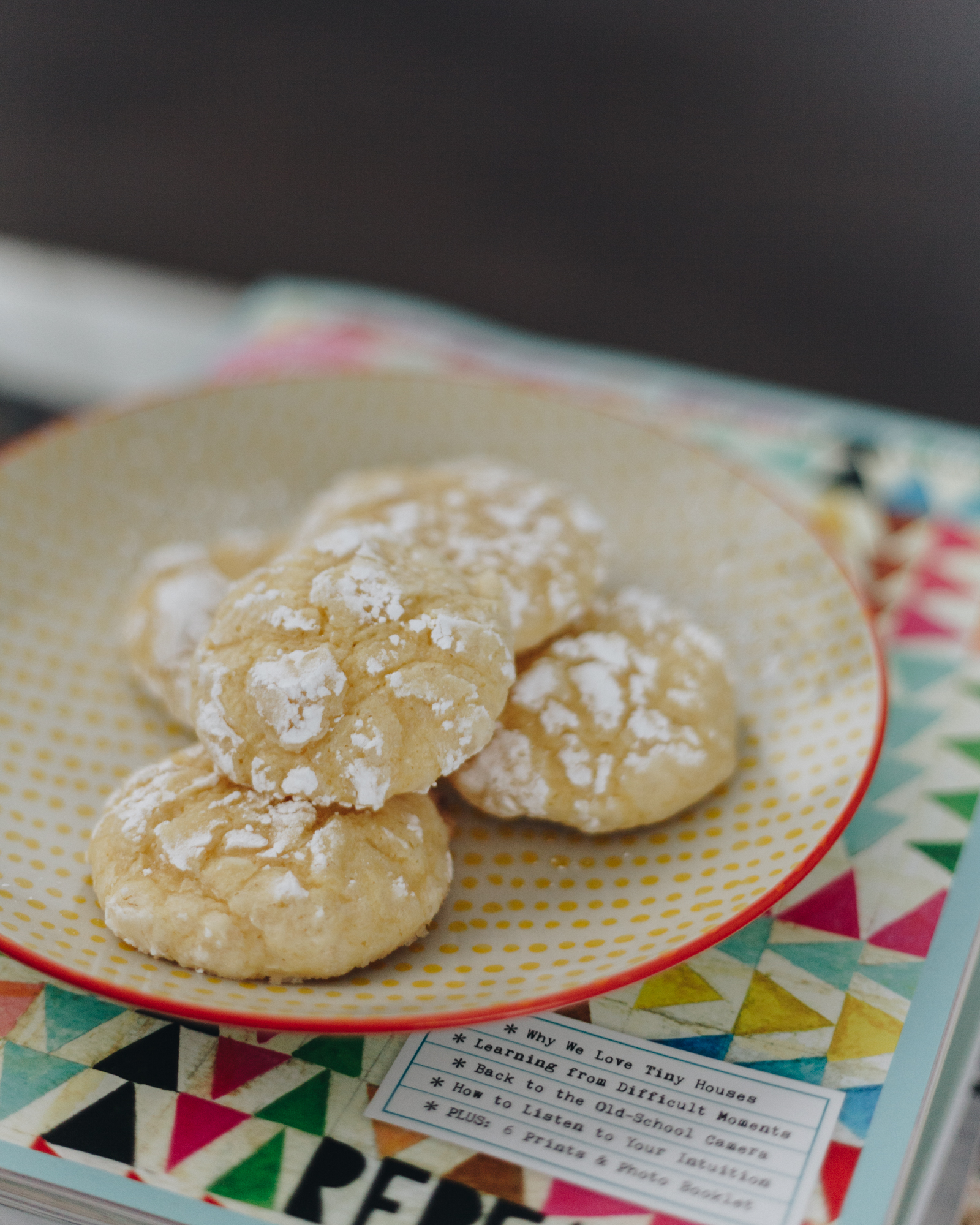 The weather is warming, the flowers are blooming and I am back in the kitchen baking up a storm. I took a couple of weeks off from baking to rest, because I'm human and I think we all need a little rest every once in a while. Spreading yourself too thin makes for careless creating, and I want to avoid that at all costs.
With the springtime sun shining, I wanted to whip up something refreshing and tart to get back into the swing of things. Windows open and breeze flowing through the apartment, these lemon crinkle cookies were born. The best part? Just a hint of ginger, inspired by one of my favorite summertime treats –– ginger lemonade.
Soft Lemon Crinkle Cookies
When life gives you lemons, make soft lemon crinkle cookies. That's how the saying goes, right?
Ingredients
1 cup

all-purpose flour

1 tsp

baking powder

1/4 tsp

kosher salt

a dash of

ground ginger

1/4 cup

unsalted butter, softened

1/2 cup

granulated sugar

1

extra large egg

1 tbsp

lemon juice

1 tsp

lemon zest

1/2 tsp

vanilla extract

4 drops

yellow food coloring, optional

1/4 cup

confectioner's sugar
Instructions
1. Preheat oven to 350ºF, and prepare a nonstick cookie sheet or line your cookie sheet with parchment paper.
2. In a small bowl, sift flour and whisk together with baking powder, salt and ground ginger.
3. Mix butter and sugar together until creamy.
4. Add in egg, lemon juice, lemon zest, vanilla extract and food coloring.
5. Combine the dry ingredients with wet until well combined.
6. Roll balls of dough, about 1 inch, in confectioner's sugar until coated evenly.
7. Place on cookie sheet about 2 inches apart and bake 10 minutes.
8. Allow to cool on cookie sheet before transferring to cooling rack.
Details
Prep time: Cook time: Total time: Yield: 16 cookies