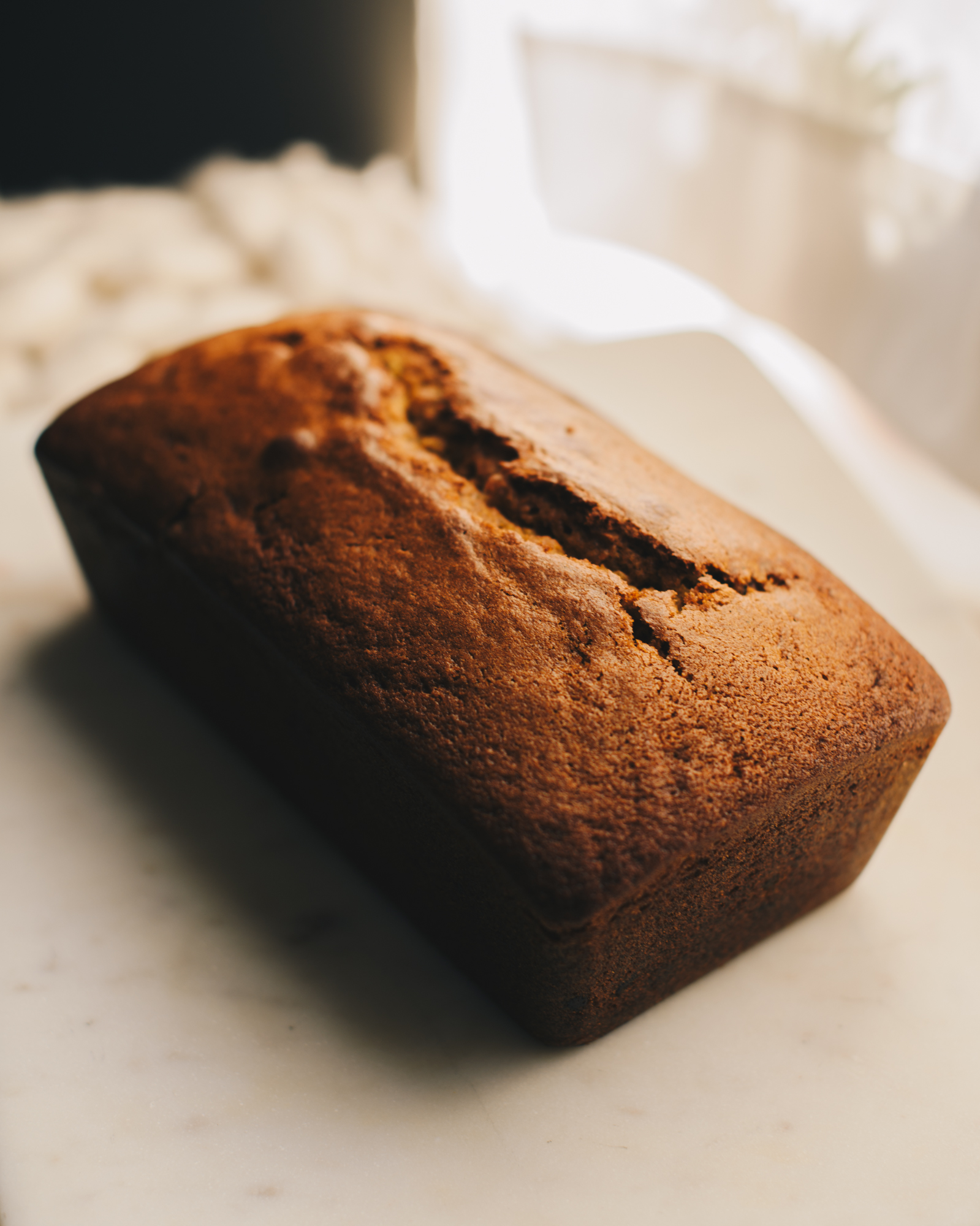 Easy Pumpkin Bread Recipe
It's that wonderful time of year where everyone is putting together recipes with pumpkin. I wanted to give my own easy pumpkin bread recipe a try… and I couldn't be happier with the way it turned out. Suffice it to say, I'll be making this every weekend until the pumpkin months fade out.
My Inspiration
I put together this recipe for my friend Giselle Melendres. She is such a big fan of my banana bread recipe, so I wanted to make something a little more festive and October-themed for her. I hope this pumpkin bread lives up to your expectations, Giselle!
If you haven't checked out her blog, it's fabulous for anyone looking for a clean, minimal lifestyle blog with a lot of substance to the content.
Thoughts on this Pumpkin Bread Recipe
I added chocolate chips to my loaf, but they're totally optional. I'm clearly just having a thing about chocolate and pumpkin this season. Don't even worry about it. Bake this for a Halloween get together, your Thanksgiving dinner, or just sitting around on a rainy October day digging into a loaf of pumpkin bread by yourself. Hey, I'm not judging.
Recipe notes
Easy Pumpkin Bread
A simple pumpkin bread for your autumn festivities.
Ingredients
1 2/3 cup

all-purpose flour

1/2 tsp

baking powder

1 tsp

baking soda

1/4 tsp

all-purpose salt

1/2 tsp

ground cinnamon

1/4 tsp

ground cloves

1/4 tsp

ground nutmeg

1/4 tsp

ground ginger

1/2 cup

unsalted butter

1 cup

granulated sugar

1/3 cup

brown sugar

1/2 tsp

vanilla extract

2

large eggs

1 cup

canned pumpkin

1/3 cup

water

1 cup

semi-sweet chocolate chips, optional

Instructions

1. Preheat oven to 350ºF.

2. Grease your loaf pan and set aside.

3. In a small bowl whisk flour, baking powder, baking soda, salt, cinnamon, cloves, nutmeg, ginger and set aside.

4. In a medium bowl combine butter and sugars until creamy.

5. Add vanilla extract, eggs and pumpkin until well combined.

6. Add flour mixture to wet mixture in small bits, alternating between adding water and flour mixture until well combined. Fold in chocolate chips (optional).

7. Transfer batter to loaf pan and smooth over the top with a rubber spatula.

8. Bake for 45 minutes or until a toothpick comes out clean.

9. Let cool for 10 minutes before overturning onto plate.

Details

Prep time: Cook time: Total time: Yield: 1 loaf pan