We said I do! Megan & Kenneth's wedding story
On February 24, 2019 Kenneth and I tied the knot. From there, life has been exceptionally busy with the return to the hustle and bustle of work, and the release of Atlas Magazine's new issue. I've finally found a little time to sit down and just blog it out. Without further ado, here's our wedding story.
Kenneth and I had a pretty short engagement; we became engaged in October and managed to pull off a wedding a few months later. A short engagement meant keeping the wedding pretty low-key–– we had twenty-eight people total come out to celebrate our special day. We wanted to keep it small, short and sweet, which resulted in a lovely brunch wedding at Album Studios in Toronto.
April & Joseph photographed my father's wedding five years ago. We were lucky enough to reconnect with this lovely couple for our big day, something I'd been quietly hoping for since I saw the wonderful work they'd done before. It was so wonderful to have these two shoot our wedding, as they made us feel totally comfortable. We had so much fun! Their photos are the ones you'll see featured in this blog post.
Photo Studio Wedding Venue
We chose to have a photo studio wedding venue because, well, we're both photography professionals. Having a wedding at a photo studio is like having a completely blank canvas to work with. Plus, daylight studios have great natural light–– something we really appreciate. We chose Album Studios, Studio A for our space. It was big enough for our party, but small enough to feel cozy. It also had a kitchen for my uncle, Jason Netherton, to pull off the amazing catered brunch.
A Winter Wedding Ceremony
The ceremony began bright and early at 10AM at Album Studios, as we love brunch and wanted to start the day early. We also wanted to give our guests some time to explore Toronto after the ceremony for those who'd flown in from around the United States.
The ceremony was performed by one of our closest friends, Meghan Cole with the help of Reverend Audra Jacombs of One Soul Awakening. The marriage ceremony laws in Ontario are pretty strict, but with Audra's guidance, we managed to have the friend-led ceremony we'd always hoped for. Audra performs elopements, ceremonies, vow renewals and more around Hamilton, ON and the GTA. Meghan spoke beautifully at the wedding and read poetry that was absolutely moving.
Brunch Wedding Menu
To kick off the brunching festivities, we started off with some chicken & waffles appetizers. Early in our relationship, Kenneth and I would go out for waffle Wednesdays every week and have chicken & waffle dates. This was a nice throwback to the beginnings of our relationship. Our main course was a savory crepe, and "Eggs Moo Moo", Jason's original dish to celebrate the wedding. It was a creative take on Eggs Benedict that was majorly memorable. For the sides, we had a ton of bacon, a salad and a butternut squash soup. The butternut squash soup took us right back to the meal we had the night we got engaged. The whole menu was crafted by Jason with such love, care and attention to detail.
For dessert, we had two cakes from the Milk Bar Bakery in New York shipped up to Canada. The first was a pretzel & chocolate ganache, and the second was a dulce de leche. Getting a Milk Bar wedding cake was probably one of the best decisions of the wedding–– and I'm pretty sure our guests thought the same thing. Milk Bar makes everything they sell in their New York bakery, and has shipments go out for national and international orders. We've been enchanted with Milk Bar for years now, and having a cake by them was… the icing on the cake.
Our wedding favors were chili-infused honey from Mike's Hot Honey and Canadian maple syrup by Escuminac. We wanted to give takeaways that weren't too big, and could be used during a brunch like ours. Obviously we love to have maple syrup while we're up in Canada with my family, and there's not many things in life better than Canadian maple syrup. Mike's Hot Honey is the honey from our favorite pizza restaurant in Brooklyn, where Kenneth decided he was going to propose.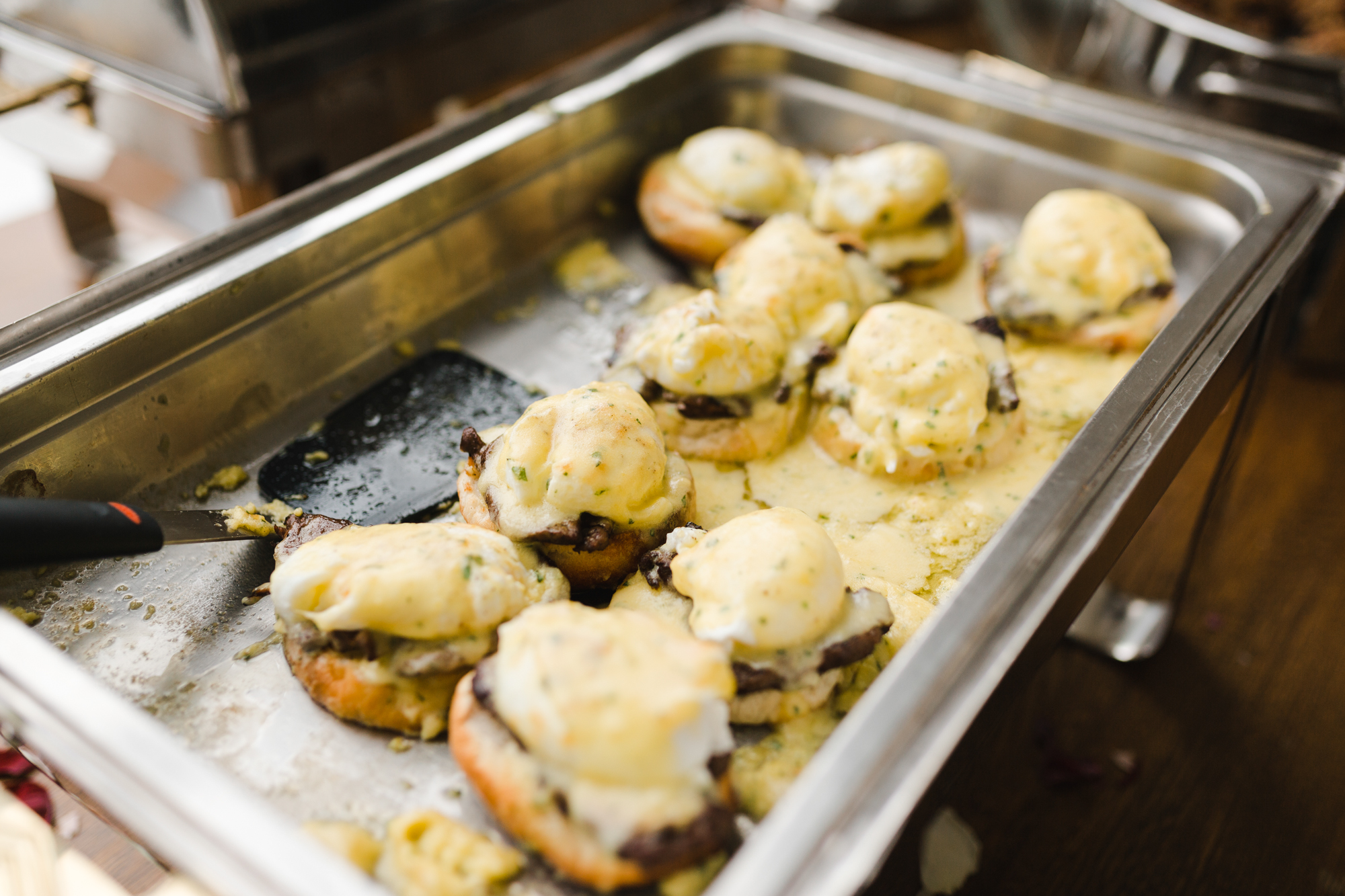 Winter Wedding Decorations
Our color scheme was a mix of reds, pinks, blues, and metallics. We tried to keep a pretty "icy" feeling for our February winter wedding. These colors echoed through our candleholders, table runners, doilies and more. Our main rentals were from Chair-man Mills, who provided gorgeous high-quality rentals and fantastic customer service. A good handful of decorations were lent to us by Nikolina from her wedding back in August. It was so nice to have our "something(s) borrowed" from a best friend. We hung up wreaths and sparkle lights because even though it was the daytime we still wanted a bit of glittering light. Colorful candles from Yummi Candles decorated the room. It was magical to have flickers and twinkles all around us.We decked out our winter wedding with fake flowers (I'm allergic to real ones!) Honestly, you couldn't even tell the difference. In fact, these flowers might have been "fresher" than what we could have had with real flowers. Winter weddings are a difficult time to get flowers for. These flowers by HandyMadeTs on Etsy perfectly matched our color scheme, too.
Who, what, wear?
The steel blue bridesmaids dresses were from David's Bridal, with both Nicole and Nikolina wearing their own unique look. They matched perfectly with Rick's suit from Zara. I'd had my eye on a crimson suit for Kenneth since we got engaged; I wanted it to be consistent with the beautiful engagement photos he took. My dress was from Blush, an extremely reasonable wedding dress brand with elegant modern designs and unique colors. I was so happy to find my dream dress in champagne. I figured if there was going to be snow on the ground, I didn't want to blend in with it. Wearing a warmer tone for a winter wedding was the perfect way to stand out just a little bit.
Smoke Bomb Wedding Photos
The weather wasn't perfect, but it didn't matter. One of the sneakiest ways we got around a dreary, grey day was using smoke bombs in our wedding photos. We didn't have a picture-perfect location outside of the venue itself, so we played around with some smoke bombs from Rocket Fireworks. They made a fairytale kind of vibe, and I would totally recommend it to anyone who wants to have a little fun… or doesn't have a flawless outdoor location. We tried two white smoke bombs and a blue smoke bomb. I think it was a little harder to photograph the blue one, but it made for a couple of pretty photos. We didn't want the colorful smoke bomb to look like a gender reveal either. One thing I will say for any brides looking to use smoke bombs for wedding photos is that they do not smell great. Try not to breathe too much of it in!
A Morning of Memories
We're so lucky to have had our small group fly in from different parts of the continent–– and even Olivia from the UK! Having so many people we care about in one place at the same time was an unforgettable experience. All of our friends becoming friends, putting faces to names, and celebrating with mimosas and matrimony. Plus, it ended early enough for a good long nap at the Kimpton Saint George afterwards. Let's be honest… weddings are exhausting!
Pro tip: confetti cannons
One of the things that made our winter wedding photos extra special was having confetti poppers when we walked down the aisle. These are small handheld confetti cannons that people can pop once you're ready to take the walk. We had some of them shooting gold confetti and some shooting rose petals. It was a really fun thing that made for some great photos.
Instax Photo Album
Possibly my favorite idea for the wedding was having an Instax photo album by Lorgie on Etsy. This was a fun and interactive way for our guests to leave memories for us, and it gave them something to do while they enjoyed their appetizers and mimosas. We came back from our photo session outside to find an album full of our favorite people.
Toronto Winter Wedding Photos
Take a look at our wedding gallery below for some of our favorite shots from the day. We're so happy to have celebrated our winter wedding at Album Studios in Toronto. Using a photo studio as a wedding venue was a fun and unique idea that allowed us to customize our wedding down to the very last detail.