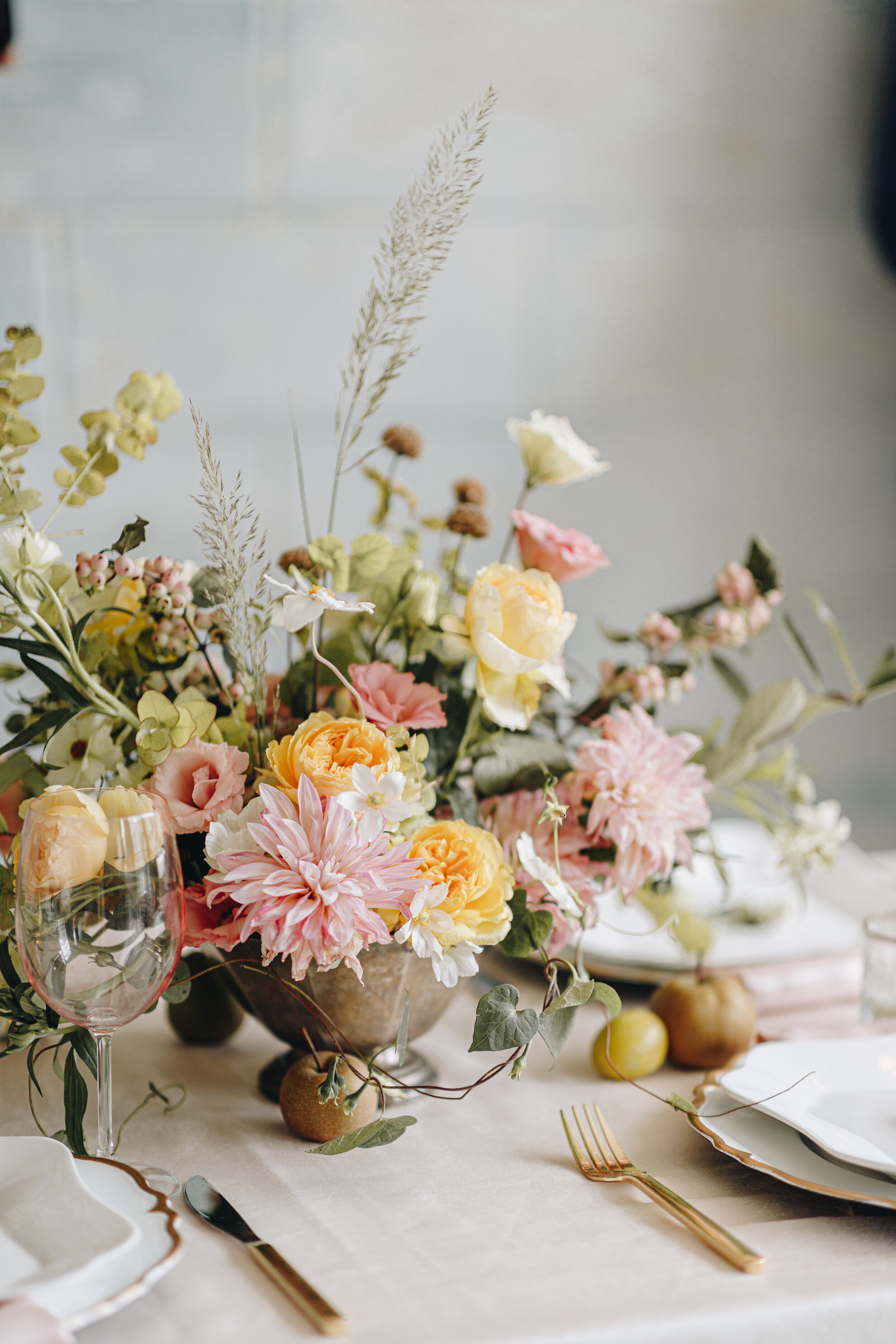 How to Plan a Styled Shoot
Styled shoots look like so much fun, don't they? A bunch of wedding vendors collaborating to make something lovely. They look great for portfolio pieces, work well on Instagram and Pinterest for promotion, and are a perfect way to build connections. But how do you actually get to do a styled shoot? Today we're diving into the basics of how to plan a styled shoot.
What is a styled shoot?
A styled shoot is a photo shoot put together for wedding vendors. These are opportunities for vendors to get out their most creative work! Much of the time, wedding vendors are catering their stylistic choices to what the client requires. That's awesome and a lot of fun, but sometimes it's great to be able to have a creative outlet as a vendor. Much of the time, these styled shoots are used for magazine and blog submissions. Styled shoots are a beautiful way to get published and show off the best of what you have to offer as a vendor. These require some planning and are often a high-production shoot that takes a full day. Let's cover how to plan a styled shoot so you can plan some wonderful shoots of your own!
Do you pay for styled shoots?
There are groups that organize styled shoots for photographers to pay for tickets for. They'll usually sell 6 or so tickets to photographers who can then come and shoot. An alternative to this, though, is to plan and produce your own styled shoot. That way, you have original work that's not the same as 6 other photographers in your area, and you're only paying for what you are producing yourself. Many vendors work for free for styled shoots because it is a collaborative portfolio piece.
Why do some styled shoots require photographers to pay?
There are a couple of sides to this argument, for and against. Many vendors believe photographers should pay because the majority of other vendors are sinking their own costs into a styled shoot. Bakers are using their ingredients, florists are using their own florals, and so on. On the other side of the coin, many photographers don't believe they should have to pay for styled shoots. After all, the shoot wouldn't be captured if not for the photographers! I personally think it's best to produce your own as opposed to buying tickets. That way, you're in control of the costs and in control of the vision for what you really want in your book.
Create a mood board for your styled shoot
The best way to get started planning a styled shoot is to create a mood board. This is a collection of images and color palettes that are representative of your vision for the shoot. From lighting, to location, to models, to styling, it's important to create a mood board for your styled shoot. It will make sure that your fellow vendors are all on the same page about the vision and direction of the shoot. Once you have your direction put into a mood board, it will make outreach to vendors for the shoot a lot easier. That way, vendors know what they're signing up for if they choose to participate in your styled shoot.
Start planning your styled shoot at least one month in advance
Give a lot of lead time for your styled shoot. Wedding vendors are busy, and they have to budget their time accordingly. Styled shoots require a lot of effort on many vendors' part, and giving them time to properly prepare for the shoot is essential to a high-quality styled shoot. A month should be a generous amount of time, so long as it's not right in the middle of busy season.
Reach out to wedding planners for collaboration
Reach out to wedding planners for collaboration on your styled shoot. Planners often have a plethora of connections to work with. They are constantly in the trenches with vendors, and know who to reliably call upon for a project. They will help you with the production of your shoot as much or as little as you agree upon. I've done styled shoots where the planner took the reins on more than half of the requirements, and others where the planner only took part in the larger asks.
Find a location for your styled shoot
Are you shooting at a wedding venue or event space, or on location somewhere? Figure out when your styled shoot is going to take place. Event spaces are willing to collaborate on styled shoots more often on weekdays as they're not as likely to be booked. Styled shoots are a fantastic opportunity for venues to show off their space in a wedding context, so many venues are more than willing to offer their spaces. If you plan to shoot outdoors, is there a poor weather contingency plan? Do you need a permit to shoot in the space? There are lots of factors to consider when finding the location for your styled shoot.
Work on email outreach to vendors
With your planner, figure out a plan to tackle email outreach to vendors. Who will be the primary point of email contact? When you do your outreach, make sure to include all of the essential information. This includes date, time, location, mood board, any other associated vendors thus far, and so on.
List of vendors to seek for styled shoots
Photographer

Planner

Venue

Florals

Hair

Makeup

Manicurist (if needed)

Model(s)

Props/rentals

Baker

Caterer (if needed)

Bridal wear

Menswear

Accessories

Jeweler (rings!)

Shoes

Transportation (if required)

Craft services (if required)
I've done my styled shoot. Now what?
Head on over to this next article about how to get published as a wedding photographer. These are actionable tips on getting your photography the recognition it deserves.