As someone who works full-time in creative production and social media, I've done my fair share of experimentation with a variety of tools and networks. We're all familiar with Instagram and Facebook, but honestly, they can be a bit of a game –– and a frustrating one at that. The algorithms are ever-changing and it seems like your hard work is getting you less and less exposure. Don't get me wrong, I think they are extremely valuable tools. I just don't think they're the only tools you should consider. As a creative developing your brand, exposure and networking are absolutely crucial to developing a name. These are 4 tools that creatives need to start using. It's time to look outside the box (or grid) for tools that serve you as a creative; not the other way around.
1. Ello
Once imagined to be the "new Facebook", Ello ended up becoming SO much more. While many left the platform in its early days, creatives stayed and this became "the creators network". It is one of my favorite resources for design, photography and fashion work. Keeping with its gorgeous, minimalist roots, Ello has updated to be the perfect spot to showcase your portfolio without having to play the games of your typical social media platforms. A lot of the work on the platform is more contemporary, but it seems like no matter your style, you'll find your tribe (and they'll find you). Since I've started using the platform, just by regular posting and occasional interaction I've begun to build an organic and engaged following that truly cares about the work fellow creatives are putting out there. The app is also perfect for on-the-go inspiration and keeping up with your following. It's free to use and easy to use. Already have an Ello account? Let's connect! 
2. Visura
A little more obscure, Visura is a great resource for photographers in particular. It is full of photographers, editors and others to network with –– and when I say network with, I mean genuinely network with. Upload projects, one-off images, news, gallery showings and get to know a community that is just as passionate about your work as you are. The work on the platform seems to be more documentary and fine art focused, but if that's not your thing, it's the perfect opportunity to start carving out your niche. I mainly post my personal work and fashion-related content, and that work seems just as nicely embraced as the work of others. They have starter plans at free + $30/year, and pro plans for the more heavy duty users. Already on Visura? Let's connect!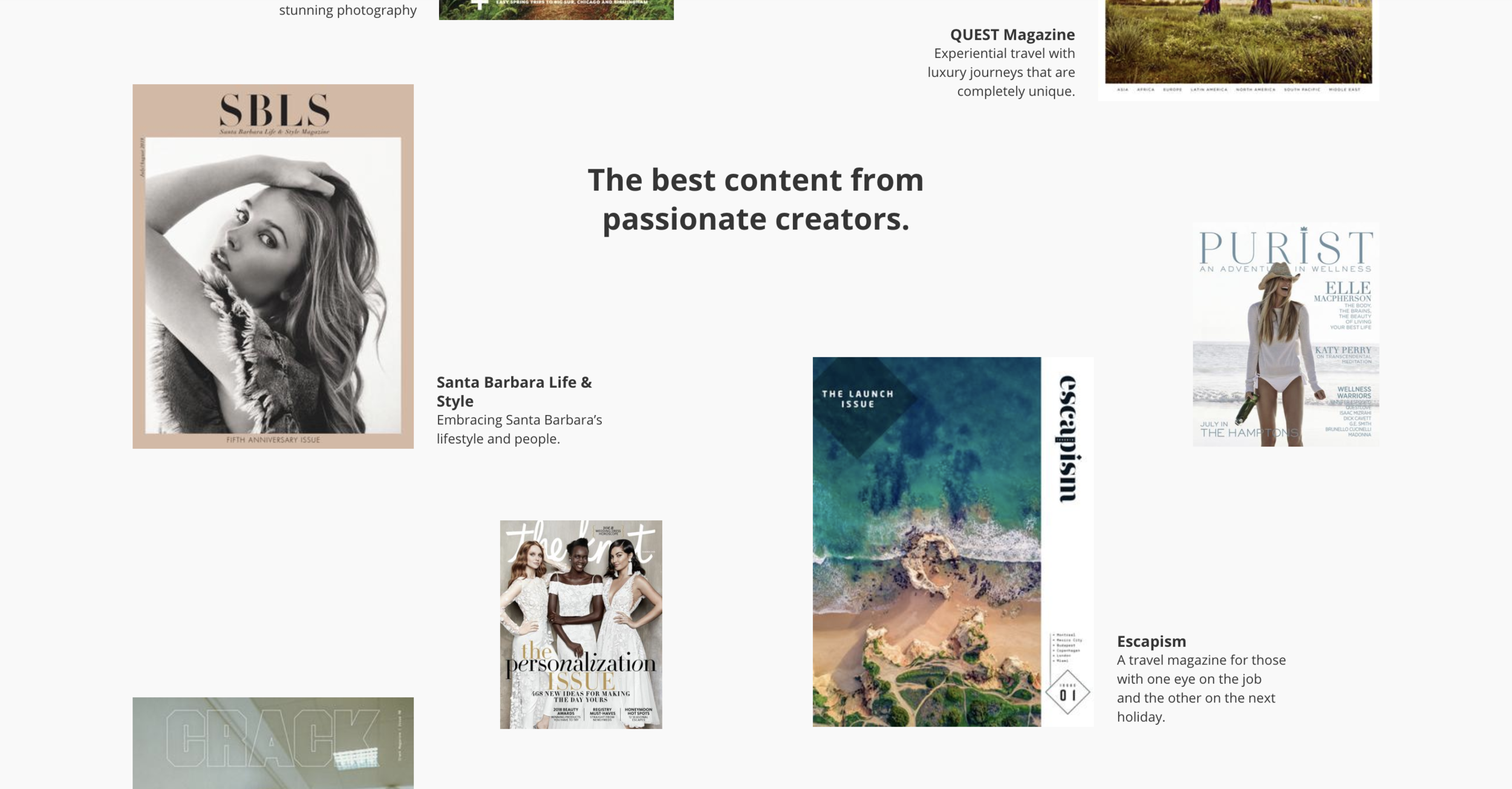 3. Issuu
I've been using Issuu for six years now to host Atlas Magazine and I have never stopped appreciating this service for a second. This platform for digital publishing can be used for anything from zines, to magazines, to portfolios and catalogues. The possibilities are endless and the amount of creative talent you can discover through this site is unparalleled. I've found so many independent magazines (and a few more mainstream ones, too) that have provided a limitless resource of inspiration. As they've continued to grow and expand, they now allow for the sale of digital publications (how are bloggers sleeping on this?!), embedded videos, mobile optimization and so much more on a gorgeous interface. They have a range of plans that include, of course, free membership. Already on Issuu? Follow Atlas Magazine!
4. Pinterest
Don't skip this one –– it's worth it, I promise. Pinterest has a stereotype of being for "moms". It's true that a lot of moms do use Pinterest, but they're not the only ones. There are so many creative sources of inspiration to be found on Pinterest, but it goes much deeper than that. Pinterest isn't what most would consider to be a "social network". It's become more of a visual search engine than anything, and an immensely good one at that. Pinterest can drive tons of traffic if you know how to play your cards right. Regular uploading and key-wording will change your experience and introduce your creative work to an audience you may not have known existed. Use this as a brand-building tool and a search engine to drive others to your visual work. Already on Pinterest? Let's connect!
Am I missing anything? Are you on any of these networks? Let me know in the comments.